Excursion to Prague and Choco-Story Museum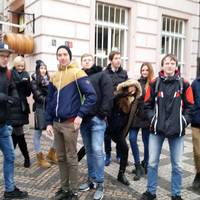 On Thursday 15th December 2016 the class O3.A travelled to Prague with Mr. Maier and Miss Linkova.
The main idea of our excursion was to experience places of interest outside of our school.
The first very popular attraction which we visited was the Prague Castle and St. Vitus Cathedral. Everywhere were a lot of people, mainly Asians. The cathedral was wonderful and magnificent. Our next way continued along the Castle Stairs and then we got to Lesser Quarter Square where we could see St. Nicholas Church, and later on we went along Mostecká Street which lead us to Charles Bridge. We saw the National Theatre from the shore of the River Vltava. Then we got to the Old Town Square through little streets and there we saw important sights such as: Church of Our Lady Before Tyne, the Old Town Hall and the Astronomical Clock.
Our next stop was in Choco-Story Museum where we were showed how to make Belgian pralines and we could make our own chocolate. At the end of our trip we visited Wenceslas Square and there we also had the end of our "Prague tour".
The excursion had Christmassy atmosphere, we consider making of our own chocolate bars a very unique experience and it was another school trip which helped us to build our class relationships.
Martina Krasniqi, Irena Boková, O3.A